Guest Book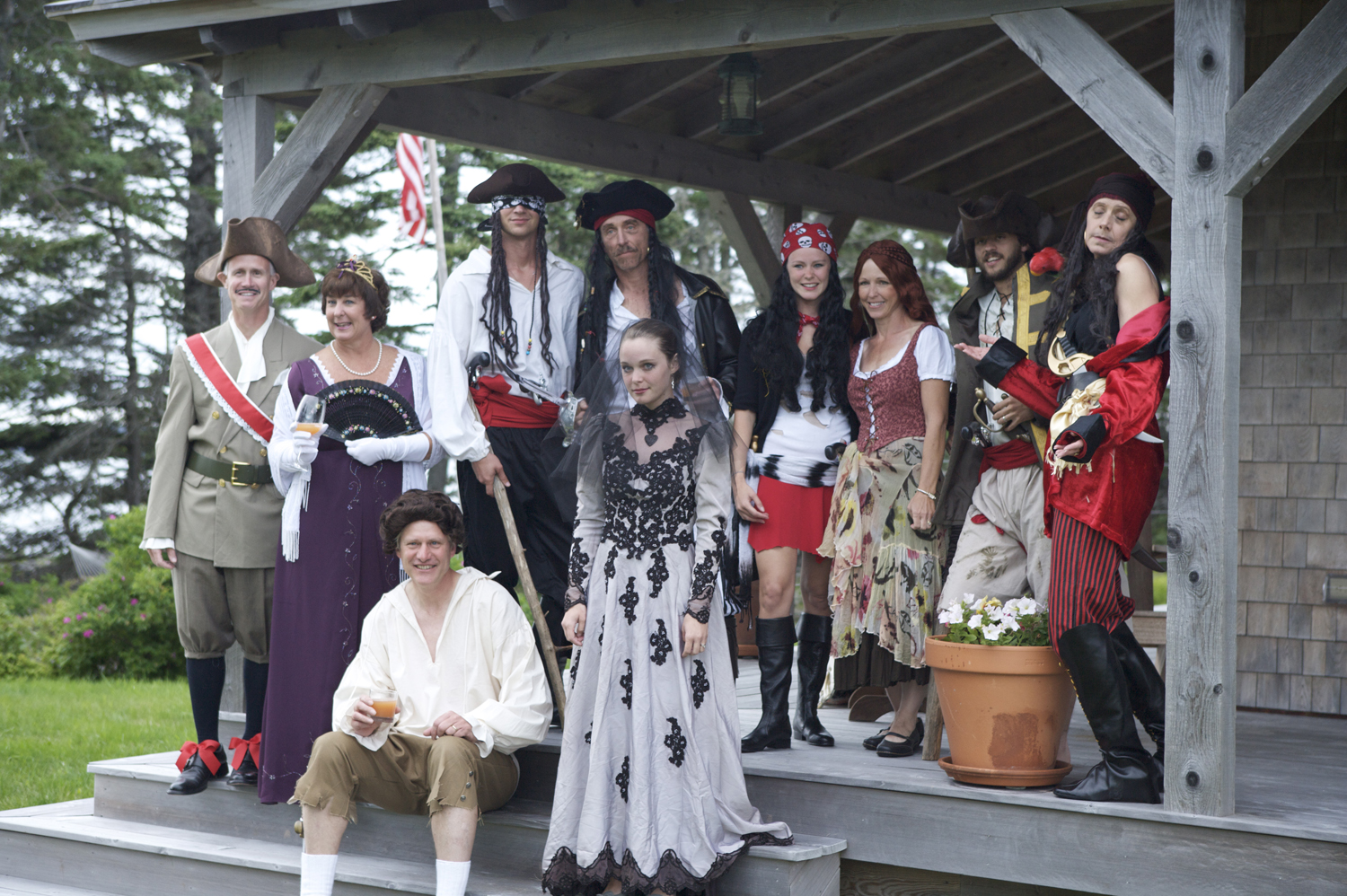 In June Pirates invaded Spectacle Island!
AJ & Jaime,
Thank you so much for your wonderful hospitality! We truly enjoyed the lobster boat & bake. we would love to come back again. What a special relaxing vacation!
Take Care,
Lisa & Gary
Charlotte, NC
PS. We will be back with our kids
Where to start? What fun! Hope to be back someday with our grandkids....and I'll take a ride with you Jaime....on your new horse ;) Thank you!
Shelley & Alan
ARRRRRRGGGGHHH!! The pirates are sad to leave this wonderful island. AJ & Jaime you have been the most fabulous hosts. we can not thank you enough. This is truly a magical place. Thanks for sharing, the lobsters were a real treat and the fact that you joined our fun in costume was such a wonderful surprise!
Many Many Thanks,
Jim & Betty
Savannah, GA
Thank you for the lovely 3 days. Your island is a real dream and you were wonderful hosts. Thanks for all the great food & rides into town! LOVE the dogs and I do know now why you call it Spectacle Island!
Dave & Sandy
Montana
Absolutely Amazing! You guys truly went above & beyond for us. I hope we get to come back someday.
Cheers,
James
This was SO much fun! Thank you guys you really made our trip a blast! Your place is beautiful-I hope you realize my parents were serious about the lobster :) Thank you again!
Take Care,
Danielle
This trip could not have been any better! Our whole group kept saying how the two of you made the trip! This was my first time to Maine and I will definitely be back. Thank you so much for your hospitality you are such gracious hosts.
This was really a dream!
Jason & Ashley
Already making plans for next year with our 2 dogs in tow! This could not have been any better for my 50th birthday celebration. You two are AMAZING-especially dressed as Pirates! :)
Debbie & Brad
Savannah, GA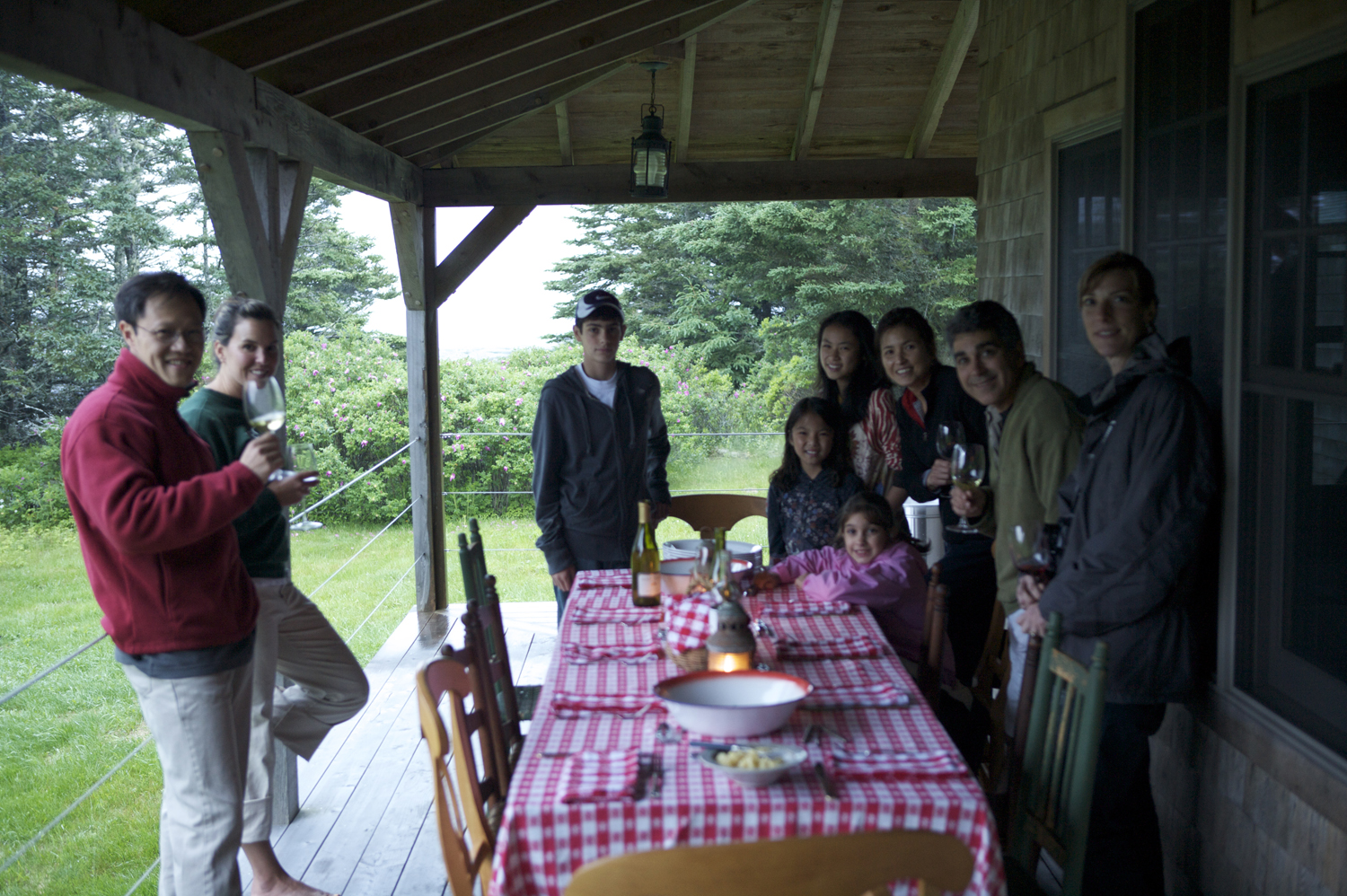 Who says you can't have a lobster bake in the rain?
Dear AJ & Jaime,
Thank you for allowing us to enjoy your island & home. You are such gracious hosts and wonderful people. This has been a memorable week for both kids and adults. There may not have been much sun but we were never at a loss for something to do: kayaking, fishing, sailing, lobster boats, lobsters...and more lobsters, touring the island, harbor seals, puffins, seals & eagles! I think our fondest memories will be of our awesome hosts, Cody & Cutter and your beautiful island and home. Thank you again for sharing it with us!
God Bless
The Migliardi Family
High Point, NC
Dear AJ & Jaime
I like you and your dogs. Thank you for letting us on your island.
Love
Rachel
High Point, NC
Dear AJ & Jaime,
Thank you so much for a wonderful vacation. All of the boat rides were fun. I think seeing the seals and puffins were my favorite part. Lychee and Andrew love the theater. We watched a bunch of movies! We're sure we'll be back again!
From,
Kimchee :)
Dear AJ & Jaime,
Your island is DA BOMB! Everything was perfect, especially the weather. It was fun to get together with some old friends at the best place EVER!!! You'll be seeing me again. Thank you so much!
Love
Lychee
Dear AJ & Jaime,
I loved staying on your island. It is awesome! The lobster was great and it was a new experience for me to open them. Even though the weather wasn't so great we got 1 hour of sunshine! it was perfect!
Thanks
Andrew
July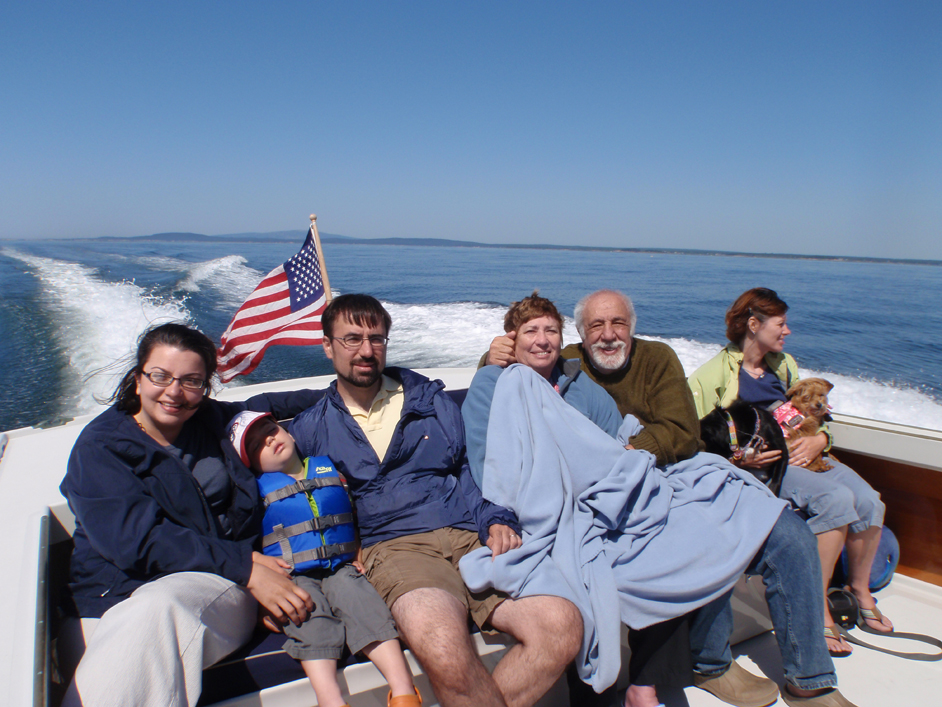 A beautiful day for a boat ride!
Dear AJ & Jaime,
This was the ultimate vacation. Our family has been coming to Maine for years and loving it. Thanks to Larry we were able to experience Maine in a completely different way this time. Your island is truly amazing. I consider myself pretty environmentally conscious but you have opened my eyes!
Thank you
Judy
Dear AJ & Jaime,
Thank you so much for your hospitality and your wonderful home. Spectacle Island is spectacular!! You are both gracious and generous hosts and took care of all of our needs & more. We wish you many more years of making peoples vacation dreams come true. I truly hope that we can return to this magical place again. Thank you
Paula & Roger
Dear AJ & Jaime,
Our "Swiss Family" Island adventure was all we hoped it would be and more. Your graciousness is what makes the time here really delightful and special. We wish you continued success and hope to return before long.
Larry & Fran
Southwest Harbor, Maine
A Family photo at Mount Desert Rock
Dear AJ & Jaime,
As I said it is about "making memories" the greatest treasures to hold close to your heart and bring smiles to your faces. Thank you for all the memories we will all cherish as a truly special time. How blessed we were to have you both as part of that. Spectacle Island is a dream island not just an island dream!
Love to you
Eloise & Billy
Macon, GA
Dear AJ & Jaime,
We cannot thank you enough for sharing this beautiful place with us. Spectacle Island is truly a slice of heaven and we feel blessed to have been able to experience Maine! Thank you for all the wonderful memories. We hope to be back one day soon!
Love
Steve, DeeDee, Thomas & Kate
Columbus, GA
Dear AJ & Jaime,
As I am writing this I am sad to leave! What a truly wonderful experience this has been for our family. You both have made Spectacle the ultimate dream vacation! Thank you for sharing your beautiful island with us. We loved spending time with you both! (As well as Cody & Cutter!) Hope to see you both again sooner than later!
Much Love
WIll, Aimee, William & Luke
Dear AJ & Jaime,
We have loved every minute on your island! The history of it, your stories, the experiences we've had this week and above all the beauty! After talking we can't even decide what has been our favorite part . Thank you for sharing your island with us and giving us such a gift. We loved getting to know both of you and Cody & Cutter! Please look us up if you are ever in Charleston!
Blessings & Much Love,
Lauren, Bert & Loulie
Charleston, SC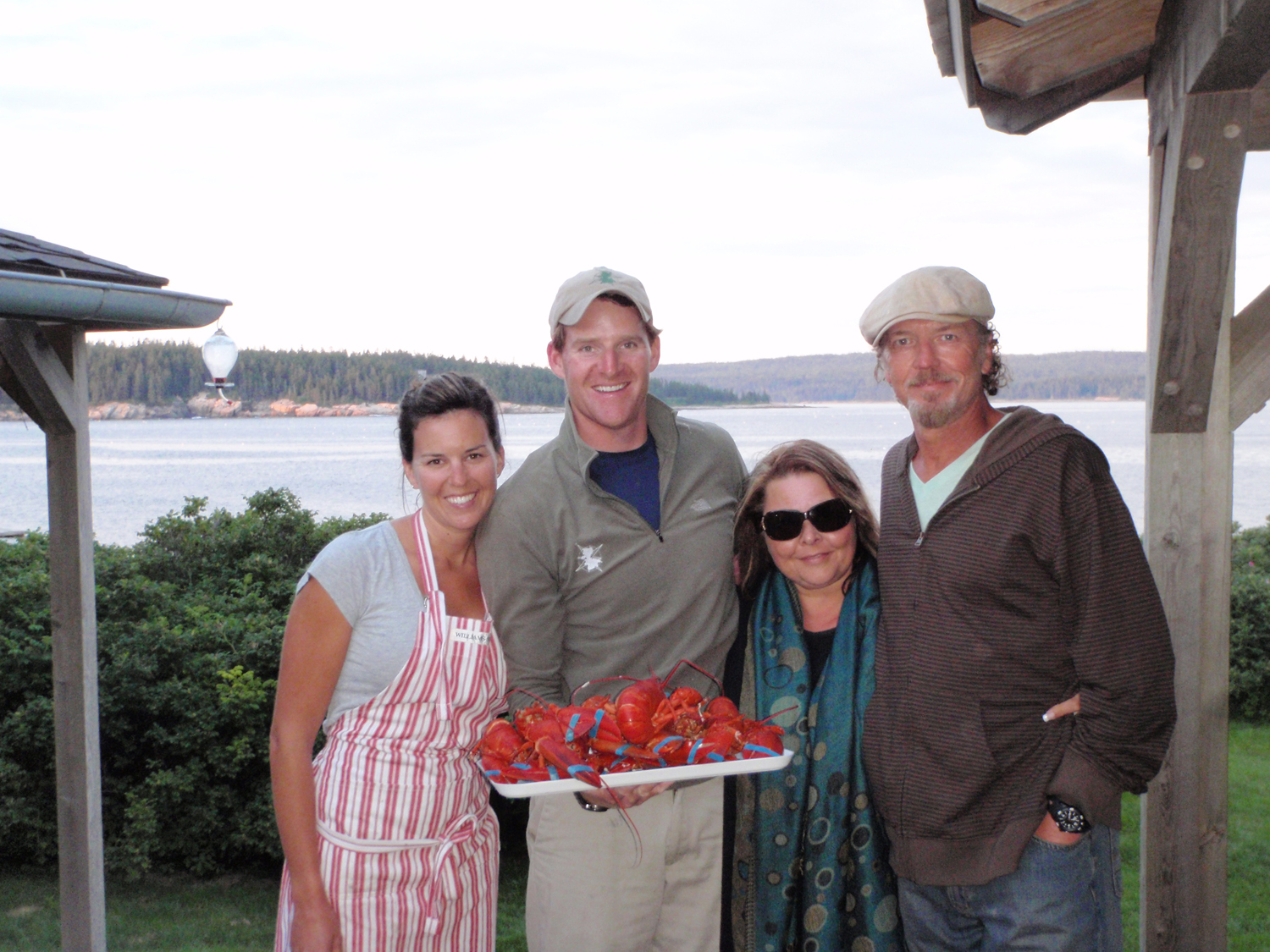 Jimmy & Kathy's first Lobster Bake
Dear AJ & Jaime,
Well! What can I say? Today through the fog we saw four whales! 2 humpbacks, which made our trip. Now its only Tuesday and we're here until Friday but NOTHING will ever match what we all experienced already! This is surreal!! Blessing on your home, your lives and your wonderful island.
Thanks for a great sail :)
Joe
AJ & Jaime
This island is nature at its finest and so are both of you! I'm fairly well traveled and this is number 1 on my list! Theres nothing else that compares. we will be back often, as often as you'll have us. I'll never forget you two....you seem like old friends, so you are! Thanks for sharing your home and place and your knowledge. It has been a dream come true. I love you both and Spectacle Island "You're The Best!" I'll see you again.
Jimmy
Nashville, TN
Today we leave. I already miss you two, this paradise, Cutter & Cody, the laughs (one scare) whales, EVERYTHING about this island! My fantasy has always been to have my own island. Instead, I found yours and it is better than anything I could have ever imagined! You two are such amazing people-Now you are lifelong friends. How lucky WE are! I've traveled all my life but NEVER loved any place more than tis island. We experienced so many "firsts" my first whale sighting, first island, first puffin sighting, porpoise, lobster bake...this was truly MAINE AT IT'S FINEST! You two are incredible hosts that I now call friends. Life is great & you have an amazing one here. Words can't express how much we adore you! I'll miss being put to sleep by the sounds of the ocean, but most of all-we'll miss you two! This is now our yearly vacation! We love you and can't tell you how much fun we had! We plan on seeing you atleast once a year from now on. Be safe and god bless. Thank you from the bottom of our hearts for the best vacation & experience EVER!
Much Love
Kathy
Nashville, TN
Dear AJ & Jaime,
The time we spent here and with the two of you was "Spectacular" I've been all around the world and seen so many beautiful places-THIS IS #1!!!!! You are such sweet people and I love y'all as friends always. I'll think of you often I'm sure and I hope you remember us.
All the love & Blessings in this world,
Carlene xoxoxoxo
AJ & Jaime,
Thank you so much for everything you've done in the past week! You are the most welcoming & gracious hosts and made us all feel right at home. I cannot wait to come back to beautiful Spectacle Island! Much love to you both plus Cutter & Cody!
Kacy
Nashville, TN
Jaime & AJ
Thank you so much for sharing the island with us. It was an incredible experience us southerners don't get to experience very often and we loved every second of it. Hope to back soon and next time we'll cut the # of seizures by half ;)
Again, Thank you both SO much...
Dustin
Nashville, TN
August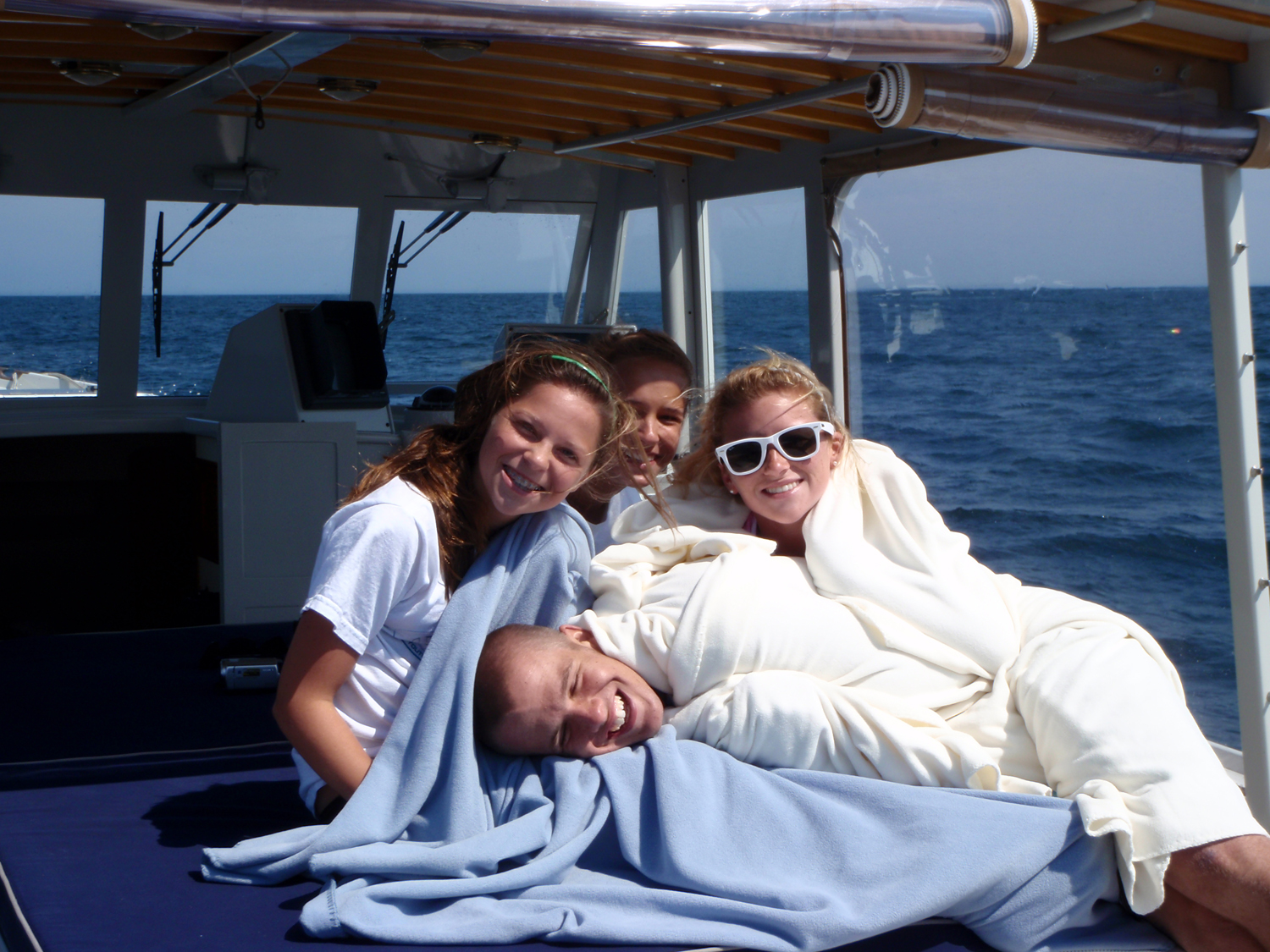 Rachel, Sydney, Evan & Abby snuggled up to stay warm on Island Dream
Dear Jaime & AJ
I was so glad to be a part of this vacation and island this week! Thank you so much for everything, this island and everything about it is beautiful! Cutter & Cody are great!
Thanks Again
Love
Rachel
Jaime & AJ,
Thank you so much for your hospitality here each year. This island has become a really special place for us. I love everything about it and Cody & Cutter :) You two are soooo nice to us and I appreciate everything you do. Hope to see you all soon!
Love
Sydney
Jaime and AJ
I had a great time on your island again and I appreciate everything you did for us, even the death ride on the Tsunami Blaster! Thank you guys for everything enjoy the rest of your summer!
Evan
Jaime & AJ
Another great year on Spectacle Island! Every time we arrive it feels like home. The lobster bake, tubing, puffin ride were all wonderful! While we miss Duke, Cutter is a great addition to your crew! We look forward to catching up with you in NH! Can't wait to return next summer and enjoy that new hot tub :) Congratulations on your engagement, good luck with your planning and Thank you, Thank you for a memorable family vacation!
Fondly,
Allison
Casco, ME
AJ & Jaime
Thank you for your friendship and warm hospitality! We love Spectacle Island and appreciate the choice you made a few years ago to "spread the magic" by sharing the island with others!! This is 3 years in a row for us!!
Thank you
Kevin
Casco, ME
AJ & Jaime
Thank you so much or sharing your island with us for the 3rd year! This island has become a very special place for us and it's something we look forward to every year! Can't wait to see you all next year. We will miss you, Cody & Cutter! Can't wait for the hot tub next year! :)
Love
Abby
Casco, ME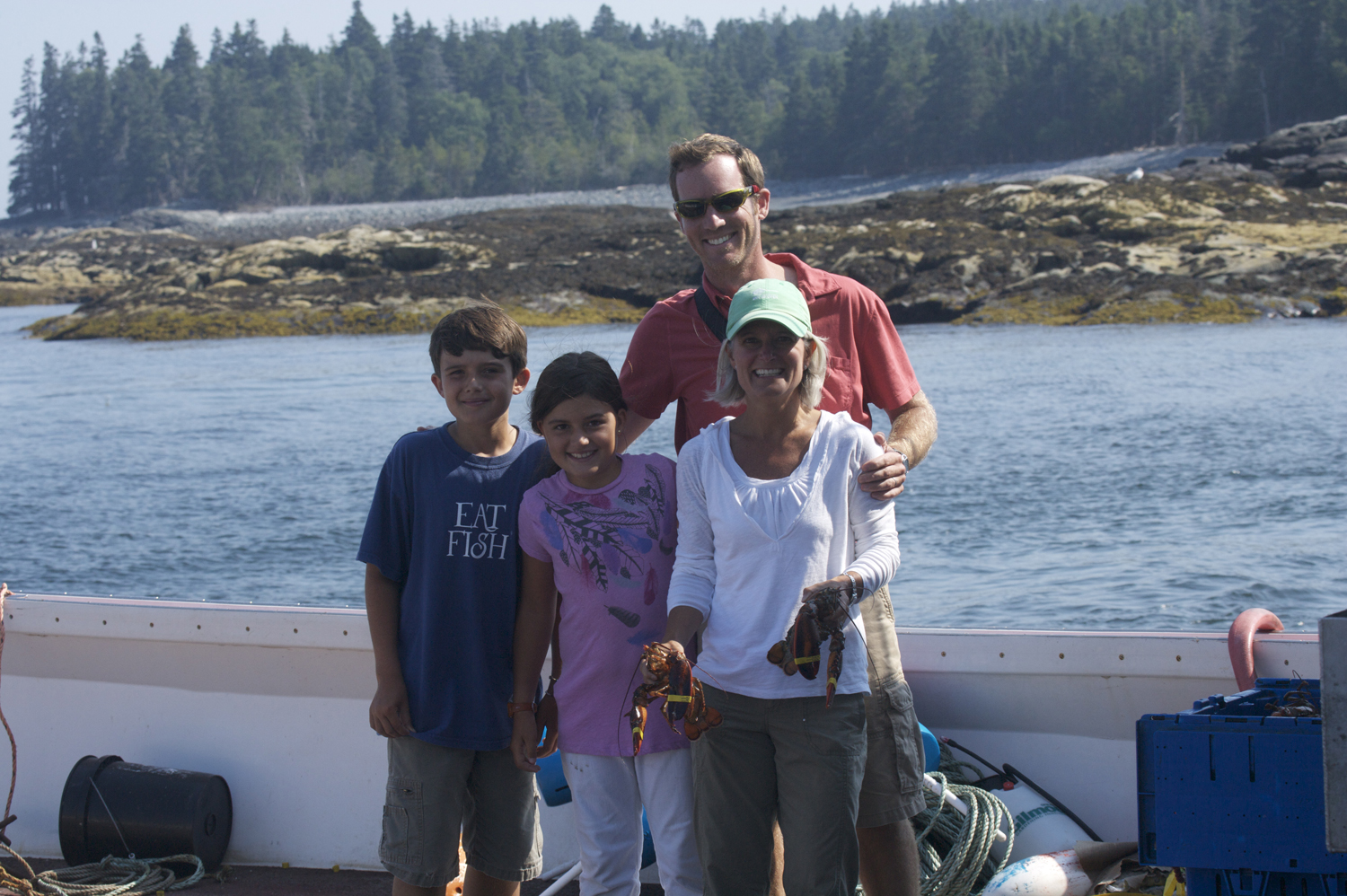 Jim, Kate, Jack & Lucie out catching their dinner aboard Juggernaut
Dear AJ & Jaime
What a fantastic week we had on Spectacle Island! We have been coming to Maine for years and this was by far our favorite trip! Everyday was a new adventure-kayaking to the seals, sailing the owl, treasure hunting, lobster men, lobster bakes, dinners out & our boat rides on Island Dream-But most of all you two and Cody & Cutter made our trip extra special. Thank you so very much for your kindness, hospitality & warmth! WE LOVED EVERY MINUTE! We will be back next year FOR SURE. Congrats to you both-it will surely be a match made in heaven out here on Spectacle Island.
Hugs to all & many thanks for such great memories.
XO
Kate, Jim, Jack, Lucie, T-Bone & Fabi
September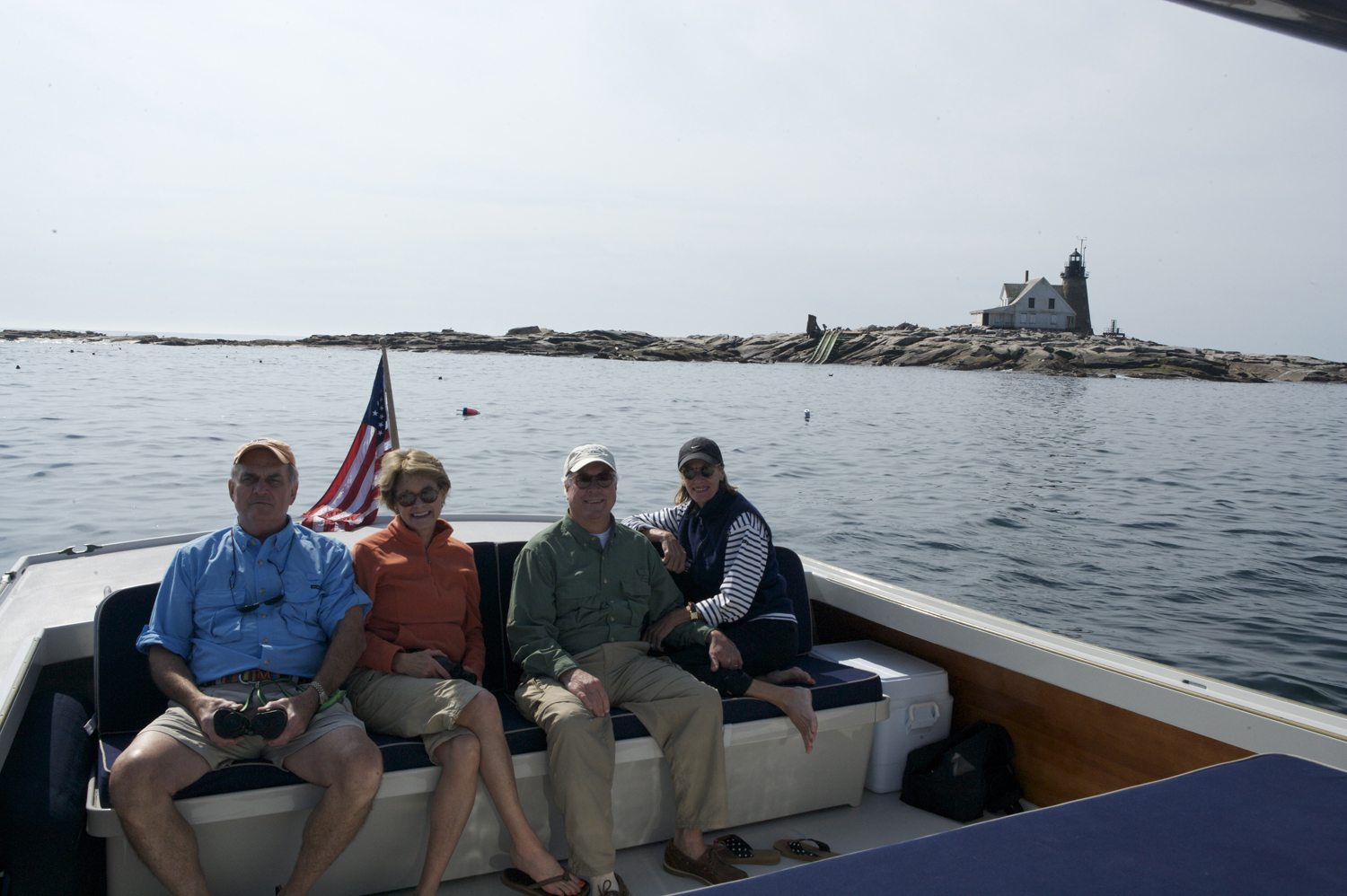 Wendy, Cleve, Doug & Dawn at Mount Desert Rock
Dear Jaime, AJ, Cody & Cutter
PERFECTION.....the state of being without flaw or defect. There surely is not a more appropriate word to describe Spectacle Island and her "keepers" you are both so dear, so gracious, so willing and so...well....everything! We have to pinch ourselves each morning as the sun rises and again each evening as it sets...are we really here....in paradise? Yes Indeed! Thank you is not a sufficient enough word to express our gratitude to you both. So I'll just end with one of my grandmother's favorite sayings....."My cup runuth over" See you in July 2010!
Love
Wendy & Cleve
Dear AJ & Jaime
A great performance always looks effortless but we know just how much effort it really takes. The two of you work hard behind the scenes. You give your guests a week they will never forget. We are thankful for your creative talents in creating a comfortable and well equipped home, for your attention to detail, and for your safe & reassuring seamanship and for Cody & Cutter and mostly for your sweet and generous spirit as hosts. We so look forward to our return!
We wish you the very best,
Dawn & Doug
Atlanta, GA
October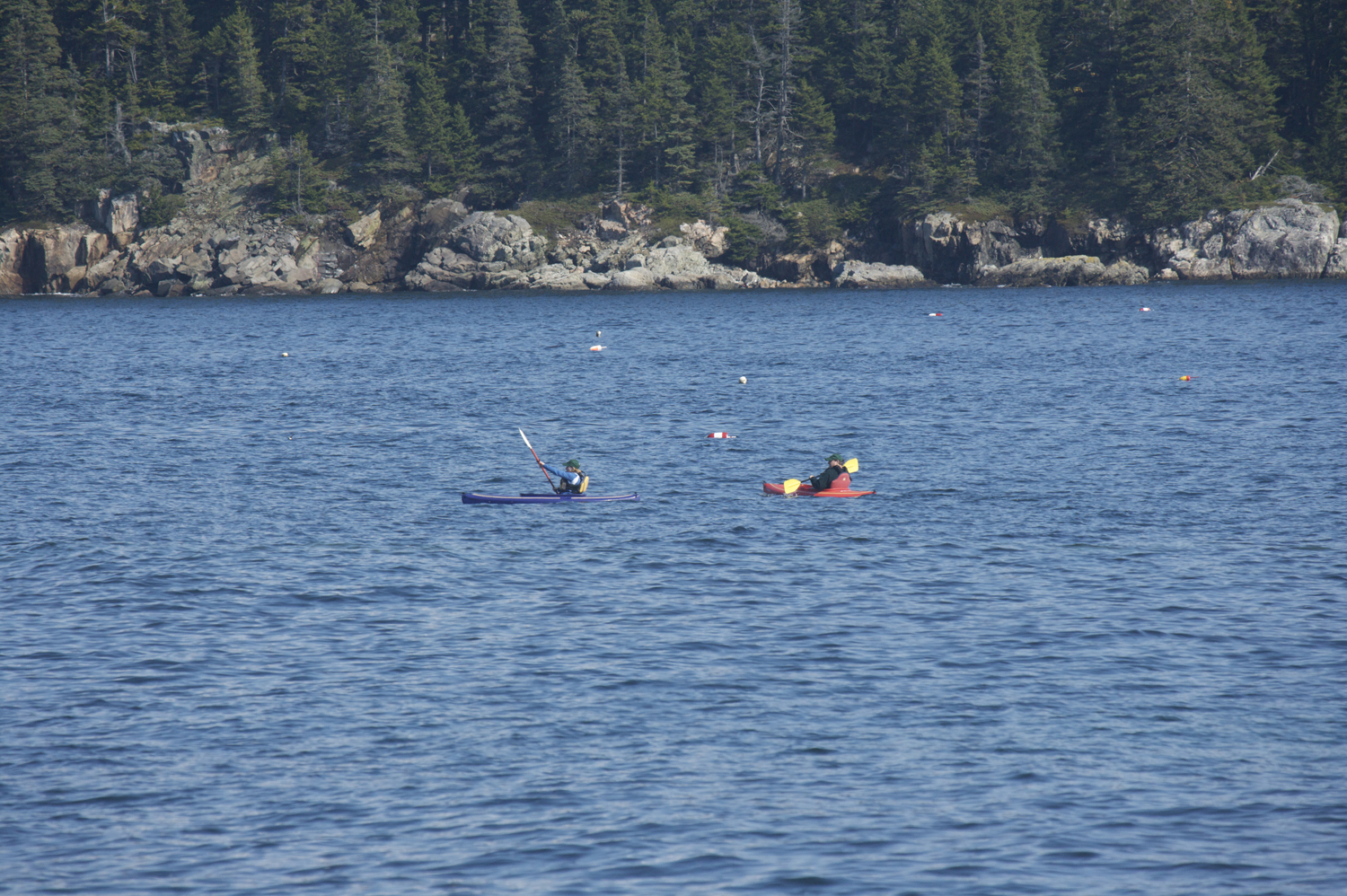 Genina & Andy Kayaking around the island
Thanks AJ, Jaime, Cody & Cutter for a wonderful time. October is a beautiful time to visit your island- that being said, we can't wait to see you guys next year in August, with our boys in tow! We truly loved every minute here and your hospitality is unparalleled.
Best
Genina & Andy
Dear Jaime and AJ
I had so much fun at Spectacle Island. I wish I could stay another week and going on the lobster boat was so amazing and whale watching was so much fun. When we went to see the seals I couldn't believe how close they got to our boat. And all of the boat rides and kayak trips were fun. I will miss Duke and Cody, and you guys too.
-Bridget age 10
Dear Jaime and AJ,
First of all, we are getting a new mattress when we get home! I can't remember the last time we slept so well. We knew we would enjoy spectacular natural wonders during our stay here, but we really did not expect all of the wonderful luxurious touches, fresh flowers in all the rooms, the jura coffee maker, beautiful bedding, and the wonderful provisions.
We are completely impressed with everything. I don't know how we could ever come to Maine again without staying on Spectacle Island! Chip and I enjoyed every sunrise and sunset, the fresh air, the fog, the whales, seals, lobster boat, hikes, bike rides, kayaks, sea glass hunts, painting, trips to Bar Harbor, all of our time with the two of you and of course Duke and Cody. Sweeter dogs do not exist!
You are incredible hosts. Thank you for your thoughtfulness for sharing your beautiful island with us, for your flexibility- for everything. You even helped us keep our teenagers smiling- no small feat. We hope to be back, if you'll have us. Please visit us in Atlanta or South Carolina on one of your trips up or down!
Chip, Shayla, Mary Hannah, Johnny & Bridget Atlanta Ga.
Dallas & Sonia 10 favorite things
-AJ's decision making with Jaime with kindness on the whale watch
-Losing track of time with Sonia
-Going into the ocean
-watching the Fog movie
-playing board games
-the sunset
-campfire on the rocks by the ocean
-Ariel playing guitar in front of the fire
-Alia and Doug being in Love
-Learning more about God sitting in the sun on the porch.
Ariel's top 5 moments/things

-Making multiple boatrides post whale watching trip, with out seasickness
-the really comfy mattress upstairs and the sun waking us up at 5am and making us think it was already noon
-playing with the dogs, and still trying to master the 2 or 3 ball fetch system, still a mystery
-screaming with alia and Caitlin at the seals and porpoises on the way back from Bar Harbor
-Turning on the switch like AJ asked and feeling handy!
+1 –Everything! Thank you! We will definitely be back!
Alia & Doug's Top 5 list
-Kayaking
-Campfires
-Sea Animals
-Big screen movies
-AJ's omnipresent knowledge of all things "island"
Loved it all!
AJ & Jaime
Thank you for another great visit to your Island! We live in Maine year round and we still come here on vacation!! Spectacle Island is the essence of the Maine coast. As beautiful as the scenery is however, the best part is your hospitality. You always make us feel so welcome and at home!
We are proud to be your oldest customer!
Kevin, Alison, Abby, Sydney, Evan & Casey
"The perfect place" … Thank you for having us and for having the vision of Spectacle Island. Amazingly such a place exists where time stands still, and the days of the week don't really matter, there is so much to experience. The ever changing ocean, wildlife, sunsets, walks around the island to discover what new has washed up and the lobstermen in their daily activities. Thanks to Cody and Duke for providing our "normal" canine companionship, we love it here and will be back!
Best to you all,
Valerie and Kevin – Windham Maine
AJ and Jaime
Thanks so much for sharing your treasure of an island with us. Our extended family has been vacationing together for many years, and this week on Spectacle Island has been uniquely beautiful, relaxing, fun. We will all cherish the memory.
Much appreciated is your perfect demeanor as hosts, your friendliness and helpfulness, and your seamless ability to think of everything! The house is amazing and lacking nothing for a week of island living, The lobstering trip, whale watching, seal watching, fishing, kayaking, sailing and various trips were wonderful diversions in a string of the most relaxing days. It should also be noted that our kids have fallen in love with Duke and Cody!
Thank you so much and we hope to see you again!
-The Suffredini's, Corn's, Baboials, and Murrays New York, New York
An Ode to Spectacle Island:
Spectacle Island- the place to be
Where the blue green mountains
Meet the sky blue sea.
Turtle Island to the south
Cadillac Mountain to the west-
Mark Island light to the east-
What scene is best?
Deciding on the greatest view is very hard
Where every window frames a picture post card,
Dave & Gail, Suzie & Doyle and Dave & Nancy
Want to tell everyone this spot is super nice,
Sunrises, sunsets, cool nights, great food and boat rides,
Good fellowship, quiet, and tides.
Rising moons, driftwood, starry nights, ledges and seagulls!
Endless rocks and stones, lobsterbakes, rosehips and eagles,
Everything is here to relax and have fun.
And to sleep like a rock when the day is done,
Thanks to our gracious hosts- Jaime and AJ
The premier innkeepers on Frenchmans bay
A great week all in all
What better way to begin the fall!
Dave and Gail – Norfolk Va
Doyle and Suzie – Norfolk Va
Dave and Nancy – Brooklin, Me –September